Trio Giovanni presents concerts in a virtuosic and spontaneous fashion, integrating old and new music together. The Trio performs regularly in performances at the University of Arizona, and in recitals throughout the nation. Acclaimed for their innovative and theatrical presentations, Trio Giovanni also performs for children and provides workshops in musical creativity. Established in 1998, Trio Giovanni performs music from the Baroque through the Contemporary periods including but not limited to the music of Handel, Telemann, Galliard, Bottesini, Gershwin, Neher, Knosp, Proto, Turetzky, Kurtz, Druckman, and others.
Betty Allen, Soprano, is a graduate of The University of Arizona with a Masters in Vocal Performance. Her interest in contemporary music has led to numerous chamber music collaborations including performances of Patrick Neher's one-act operetta, The Frog Prince Continued and Neher's settings of the music of e.e. cummings. Ms. Allen has performed for several seasons with the Arizona Opera and the Abilene Opera, and she is on the faculty of Pima Community College, Tucson. She has developed her voice to have extended range and lyrical quality, allowing performances of music as diverse as the role of Musetta in La Boheme to Bach 's oratorios, to the songs of Gershwin.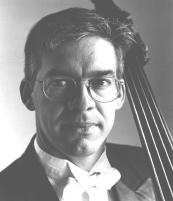 Double bass soloist, professor of music, and composer, Patrick Neher, received his Master of Music Degree with Honors from the Juilliard School of Music, in New York City, under the esteemed tutelage of David Walter. His later study with François Rabbath, in Paris, lead to his receiving the Rabbath Institute's Diploma and Teaching Certificate in 1996. Mr. Neher has been teaching double bass and chamber music at The University of Arizona, in Tucson, for seventeen years. He has maintained professional engagements with the San Diego Symphony, the New Mexico Symphony, the American Philharmonic, the New Orleans Symphony, for two seasons as Solo Bassist with the acclaimed New 20th Century Players, for ten years with the Tucson Symphony Orchestra as Principal Bassist, and for twelve years as Principal Bassist with the Santa Fe Chamber Orchestra and Pro Musica. As a soloist, Mr. Neher's concert career has taken him around the world, and as an active chamber musician, he has performed with numerous music festivals throughout the United States and Europe. His music is published by ISG Publications and Liben Music Publishers.
Suzanne Knosp, pianist, is one of the country's most active accompanists and composers. She is also the director of musical activities for the Dance Division of the School of Music and Dance at The University of Arizona. In addition to performances too numerous to list, her collaborations in dance and music include two videos (and a third in production) : Ballet Workout and Creative Movement a Step Toward Intelligence. Dr. Knosp's latest book "Ballet Barre and Center Combinations, Vol. II: Music" has been accepted for publication by Princeton Publishing. Her lecturing and performances have also taken her to international conferences and festivals, including the Intl. Theatreschool Festival in Amsterdam and the worldwide conferences of the Intl. Guild of Musicians and Dance.
---
For Information on engaging Trio Giovanni for your next performance, contact Patrick Neher at:
520-621-5822 or at ISG Promotions: 520-743-7229, or email to neher@u.arizona.edu
---