ISG Publications
Sonatina #2 for Double Bass and Piano (1984) - Patrick Neher
Sheet music (very low-res graphic) and mp3 audio samples.
Sonatina #2, written in 1984 for David Walter, is Patrick Neher's most popular composition. It has been premiered in over seven different countries around the world and is recorded on the CD album "Bass Ascending, vol.1" with Patrick Neher, double bass and Paula Fan, piano. The piece is neo-classic in compositional style and is polytonal, running about 15 minutes long. Movements are 1. Allegro moderato, 2. Adagio 3. Vivace. The sheet music, with piano accompaniment in either solo or orchestral tunings, and the CD are published by ISG Publications: Copyright and All Other Rights are Reserved.
MP3 audio samples:Allegro moderato, Adagio, Vivace
It is recommended to listen to the samples using head phones, or a high-quality computer speaker system.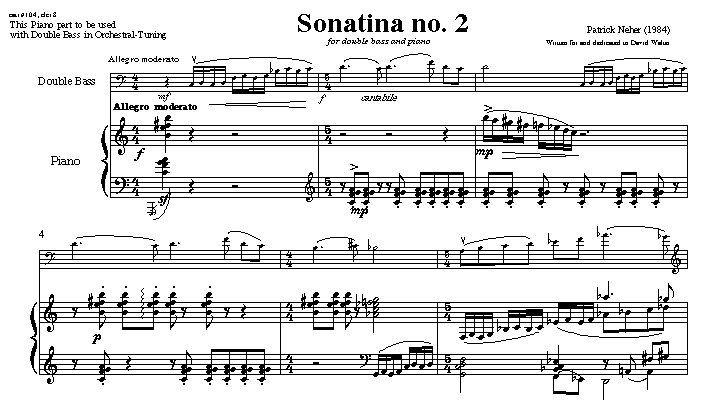 ---