Links to recordings that we publish: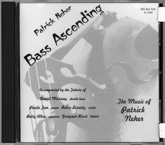 Bass Ascending! volume 1
 Includes: Neher; Five Vignettes for two double basses, Juste Melodie for bass solo, Sonatina no.2 for bass and piano, Concert Duo for double basses, The Frog Prince Cont… for soprano, tenor, violin, and double bass. With the musical talents of David Murray-bass2, Robin Lorentz-violin, Grayson Hirst-tenor, Betty Allen-soprano.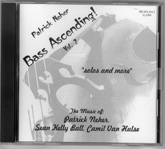 Bass Ascending! volume 2
Includes: Neher – Plight of the Bunny, Serenade for solo bass, Duet "for Michele", Duet for bass and piano, Serenade for Bass and Piano, Dirge, Caprices; Sean Kelly Ball – Breakfast at Patrick's; Camil Van Hulse – Sonatine-Etude.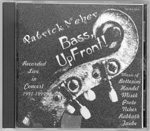 Patrick Neher – Bass UpFront!
An "All Live Recital" album. Recitals from 1991-99. Bottesini – Bolero and Melodia#2, Neher – LA's Serenade, Misek – Concert Polonaise, Proto – A Carmen Fantasy, Handel – Sonata op1#13, Rabbath – Crazy Course, and Taube. – Nocturne. All Music Recorded Live, in concert, up front and exposed. For double bass solo and double bass with piano.
Romantic Songs for bass and soprano
Includes: seven songs of Giovanni Bottesini (Tutto il Mundo Serra, Canta Roberto!, Retourner a la Paix de Champs, E'il Pianto del mio Cor!, Une Bouche Aimeé, Guardami Ancor!, Un Bacio Solo) and two of Patrick Neher (Accept! and Your Eyes). Performed by Betty Allen, Patrick Neher, and Susanne Knosp. Premiered at the ISB Convention in Indianapolis, June 2001.

Patrick Neher – Grand Bassery!
Music for double bass and piano of: A.Desenclos – Aria and Rondo, G.Bottesini – Intro. and Gavotte, P. Neher – a Toi, Halsey Stevens – Sonatina Giocosa, A. Misek – Sonata #2, and F. Hertl – Sonata. Grand playing of some of the finest compositions for double bass.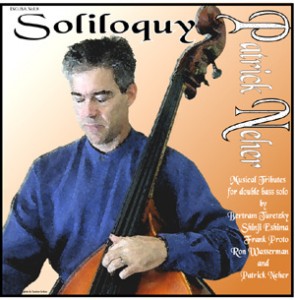 Patrick Neher – Soliloquy
new music for solo double bass. Walter – Homage a Casals; Turetzky – Three Doinas for David; Proto – Lessons; Neher – Reflet sur Cher, LA's Serenade, and Serenade for Solo Bass; Eshima – If it's Tuesday it Must be Up-Bow; Wasserman – Ballet Fantasy. Encore: Neher – Improv. d'Amour (live). Over 60 minutes of music. Recorded in September and October 2003.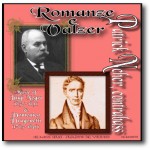 Patrick Neher – Romanze e Valzer
Domenico Dragonetti. – 12 Waltzes for Solo Contrabass. Luigi Negri: Capriccio, Fantasia, Reminiscenze, Fantasia "Sonnambula", Capriccio "Rigoletto." Patrick Neher's recent release of Negri's five Romantic pieces and Dragonetti's 12 Waltzes, is tour-de-force of virtuos bass playing. Recorded in 2007.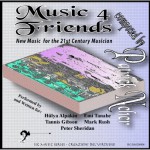 Patrick Neher – Music 4 Friends
New music composed by Neher for friends, via requests and commissions. Includes Suite for Violin and Piano with Emi Tanabe, violin and Hulya Alpakin, piano; Ditties for Piano, performed by Tanis Gibson; Duo Eclatant for violin and bass, with Mark Rush, violin, and Patrick Neher, bass; and City Vignettes for Contrabass Flute, Double Bass and Piano, played by Peter Sheridan, Patrick Neher, and Chanwook Park.

Patrick Neher – Music for Friends, Two
This latest release by ISG Music includes compositions written by Patrick Neher for his musician friends: Sonatina #3 with Patrick Neher, bass, and Miroslava Panayotova, piano; Games for Two Violas, performed by Scott Slapin and Tanya Solomon; Septembering Arms for soprano, bass, piano, and violin with Betty Allen, Suzanne Knosp, Neher, and Mark Rush; and Looking Glass Waltzes for solo piano, Miroslava Panayotova performing solo.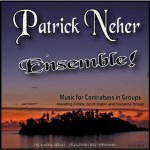 Patrick Neher – Ensemble!
Patrick Neher's latest CD includes music for bass in ensembles. Focusing on recording of rarely performed or recorded compositions for bass in small ensembles (duets, trios, quartets and more), the compositions on the new album are from a variety of eras and composers, including Dittersdorf, Bottesini, Vanhall, J.S. Bach, Saint-Saens, and of course Patrick Neher. Much of the recording uses innovative recording techniques, including what Neher calls; "tele-recording." Including Patrick Neher, other featured performers include Scott Slapin, violist; and Suzanne Knosp, pianist. Released Feb., 2014