ISG Publications is the sole, World-wide publisher of the new editions of short opera buffa pieces of Luigi Negri.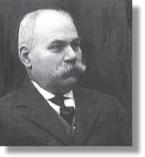 Luigi Negri (1837-1891), like Giovanni Bottesini, was a student of Luigi Rossi, then the bass teacher at the conservatory of music in Milan, Italy. When Rossi died, Negri succeeded him as teacher of the Academy of Music (1858) and as Principal double bass player at the theatre  "Teatro alla Scala".  In addition to the five pieces that ISG Publications publishes of Negri, he also composed "A method for the 4 string double-bass" (Ed. Ricordi – Milan) and "24 Studies."
Negri lived during the 19th Century Romantic period, a period of intense musical fervour, when great concert artists began to achieve success. Although he was a very good musician, he didn't get much opportunity and remained almost unknown to the public. Maybe this was due to the presence on the international scene of one of the great Lombard talent, Giovanni Bottesini from Crema called "Paganini of the double-bass" who, thanks to his fame, obscured Negri as a player and composer. Frankly we at ISG Publications feel that the arrangements that Negri did of the famous opera tunes of the day (by Donizetti, Puccini, Rossini, and Bellini) are actually better composed and are more accessible by modern bassists than many of the same tunes arranged by Bottesini.
Negri composed pieces for concert of a very high quality which, even if they reflect the taste of that period, include pages of great virtuosic effect, where he used all the technical capacities of the instrument.
See the all the pieces of Negri that ISG publishes. Individual pieces, two Capriccios, Reminiscenze, and two Fantasias are available in solo or orchestra tuning. And a set of all five pieces in one album, at a discounted price, is also available in solo or orchestral tuning.  On the ISG label, these pieces have been recorded by Patrick Neher