Theodor Albin Findeisen (1881-1936) wrote Nixenreigen Fantasie, for double bass and piano, around 191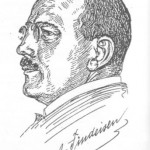 0-1912, and the work is his Opus 9. Dr. Robert Matheson, bassist, composer, arranger, and professor has brought this and other works of Findeisen to light in his doctoral thesis.  Dr. Matheson has chosen ISG Publications to disseminate Findeisen's compositions, that have been out of print or were never published.
Findeisen's music represents the only compositions for solo double bass from the early twentieth century's compositional style akin to Richard Strauss or early  Schoenberg. It is rich, full, romantic, and challenging, with full use of chromaticism and counterpoint.
"Nixenreigen" is based on a poem that tells of a musician's walk home one night through the woods, when met by fairies frolicking about and dancing to his music. To have the double bass play the lead role in this story is quite a feat in itself. The entire range of the instrument is utilized in the composition, and even though the lyricism is beautiful, it is a wonderful technical challenge for any student or professional bassist.
ISG Publications is proud to present this newly published composition. We will be releasing other works of Findeisen soon.